Top 10 Florida Cities for European Expats
Top 10 Florida Cities for European Expats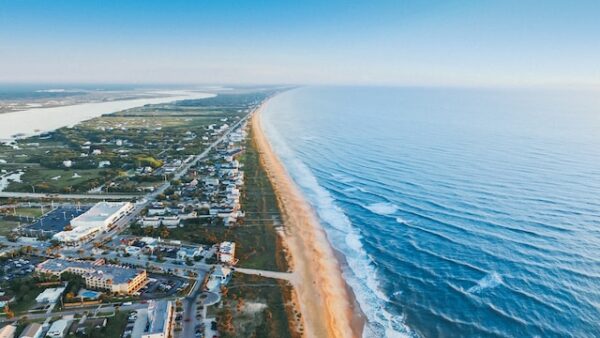 Florida's alluring combination of sunny weather, beautiful beaches, and a vibrant lifestyle has made it an increasingly popular destination for European expatriates seeking a fresh start. Each city in the Sunshine State boasts its unique charm and attractions, catering to the diverse preferences of European expats. This article will explore the top 10 Florida cities that stand out as ideal destinations for those looking to cross the Atlantic.
Orlando: Family-Friendly Fun and Theme Parks Galore
Orlando, the world's theme park capital, is an excellent choice for European families. Its world-class attractions, family-friendly neighborhoods, and top-rated schools create a welcoming environment for expatriates with children. Beyond the theme parks, Orlando offers a variety of cultural events, outdoor activities, and entertainment options for a well-rounded experience.
Tampa: Coastal Living with Growing Opportunities
Tampa's warm climate, waterfront lifestyle, and burgeoning job market make it an attractive destination for European expats seeking relaxation and career opportunities. If you're moving here, you'll find that the city's laid-back atmosphere and diverse communities contribute to its appeal. Tampa also boasts an array of museums, parks, and recreational facilities for expats looking to enrich their leisure time.
St. Petersburg: Charming Coastal Haven for Retirees
St. Petersburg's charm lies in its downtown allure, stunning beaches, and vibrant arts community. This city is a favorite among European retirees seeking a laid-back and culturally rich environment. Stroll through the art galleries, enjoy the waterfront views, and immerse yourself in the city's welcoming atmosphere.
Sarasota: A Sophisticated Artsy Enclave
Sarasota attracts European expats with its pristine beaches, thriving arts scene, and strong cultural presence, so consider preparing for the move here. The city's diverse cultural events, world-class theaters, and art galleries make it ideal for those seeking a sophisticated and artsy community.
Naples: Luxurious Lifestyle in Paradise
Naples embodies luxury and elegance, enticing European expats with its upscale amenities, renowned golf courses, and exquisite lifestyle. The city's relaxed ambiance and beautiful beaches provide a haven for those seeking a tranquil yet sophisticated setting.
Fort Lauderdale: Waterfront Paradise with Urban Flair
Fort Lauderdale, often called the "Venice of America," captivates European expats with its intricate canal system. That is perfect for serene boat rides and waterfront living. Beyond the picturesque waterways, the city's pristine beaches and vibrant beachfront promenade offer an array of dining, shopping, and entertainment options. Fort Lauderdale's rich maritime history is celebrated through attractions like the Bonnet House Museum and Gardens, which showcases the city's past through art and architecture, making it an ideal destination for those who appreciate urban sophistication and coastal charm.
Miami: The Urban Hub with International Flair
Miami is a city known for its vibrant international scene. It is a melting pot of cultures that appeals to European expats seeking a dynamic urban experience. The city boasts thriving arts and cultural events, exciting nightlife, and a diverse culinary scene. With its warm climate and beautiful beaches, Miami offers a lively and cosmopolitan lifestyle that European expats find exhilarating.
Moving to Miami can be an exhilarating adventure, and expert advice can make the process smoother. Experts from Miami Movers for Less suggest considering the tropical climate and organizing the move accordingly. Also, you should pack lightweight and breathable clothing to stay comfortable in the warm weather. Additionally, they recommend securing valuable or delicate items with proper packing materials to ensure a safe and damage-free move to this vibrant city.
Jacksonville: A Blend of Urban and Outdoorsy
As Florida's largest city, Jacksonville offers European expats an array of urban amenities, outdoor activities, and a thriving job market. That is one of the Florida cities that offers cultural attractions, a lively arts scene, and numerous parks and nature.
Jacksonville boasts a myriad of urban amenities that cater to a cosmopolitan lifestyle. The city's downtown area is a bustling center of commerce. It features modern skyscrapers, shopping districts, and a thriving arts and entertainment scene. European expats can enjoy diverse restaurants offering international cuisines, trendy coffee shops, and lively nightlife venues.
Coral Springs: The Serene Family-Friendly Gem
In South Florida, Coral Springs is a serene and family-friendly city with a strong sense of community. The city's lush landscapes, warm climate, and welcoming atmosphere create an inviting environment for European expats. Coral Springs has developed a thriving European community that adds to its cultural diversity, making it an excellent choice for those seeking a close-knit community away from home.
Hiring professional movers can make the process seamless and stress-free if you plan to move to Coral Springs. It's wise to ask a local crew for help to ensure a smooth transition, as they have an in-depth knowledge of the area and can navigate efficiently through the city's neighborhoods. With experienced movers in Coral Springs, you can trust that your belongings will be handled carefully and your relocation will be a breeze.
Boca Raton: Upscale Living and Beach Bliss
Boca Raton's upscale neighborhoods, cultural events, and proximity to the beach make it a sought-after destination for European expats. That is a great place for those searching for an affluent and luxurious lifestyle. The city's sophisticated dining and shopping options further enhance its appeal.
For those who appreciate arts and culture, this is one of the Florida cities with much to offer. The city is home to numerous art galleries, museums, and theaters hosting world-class performances and exhibitions regularly. The Boca Raton Museum of Art, a prominent cultural institution, showcases an impressive contemporary and fine art collection. Furthermore, this contributes to the city's vibrant cultural scene.
One of the primary draws of Boca Raton is its breathtaking coastline. It provides European expats with direct access to sun-kissed beaches and the tranquil waters of the Atlantic Ocean. People who move overseas to this city can indulge in water-based activities like swimming, snorkeling, and boating. The pristine beaches of Boca Raton, such as South Beach Park and Red Reef Park, offer a serene escape for relaxation and recreation.
Conclusion
Florida's allure for European expats lies in its warm climate, diverse communities, and ample recreational opportunities. Each of the top 10 Florida cities offers a distinct experience. That ensures a perfect fit for every European expat ready to embark on a new adventure in the Sunshine State. Whether it's the cosmopolitan vibe of Miami, the family-friendly atmosphere of Orlando, or the serene charm of Coral Springs, Florida welcomes European expatriates with open arms, promising a rewarding and fulfilling life in the United States.